product review
Stylish Pet Houses but Are They Safe for Your Dog?
I am always looking for fun and cute items for my pet, especially pet beds. Sleeping is such a big part of a dog's life, and every Frenchie deserves to be comfortable enough to snore, snort, and dream.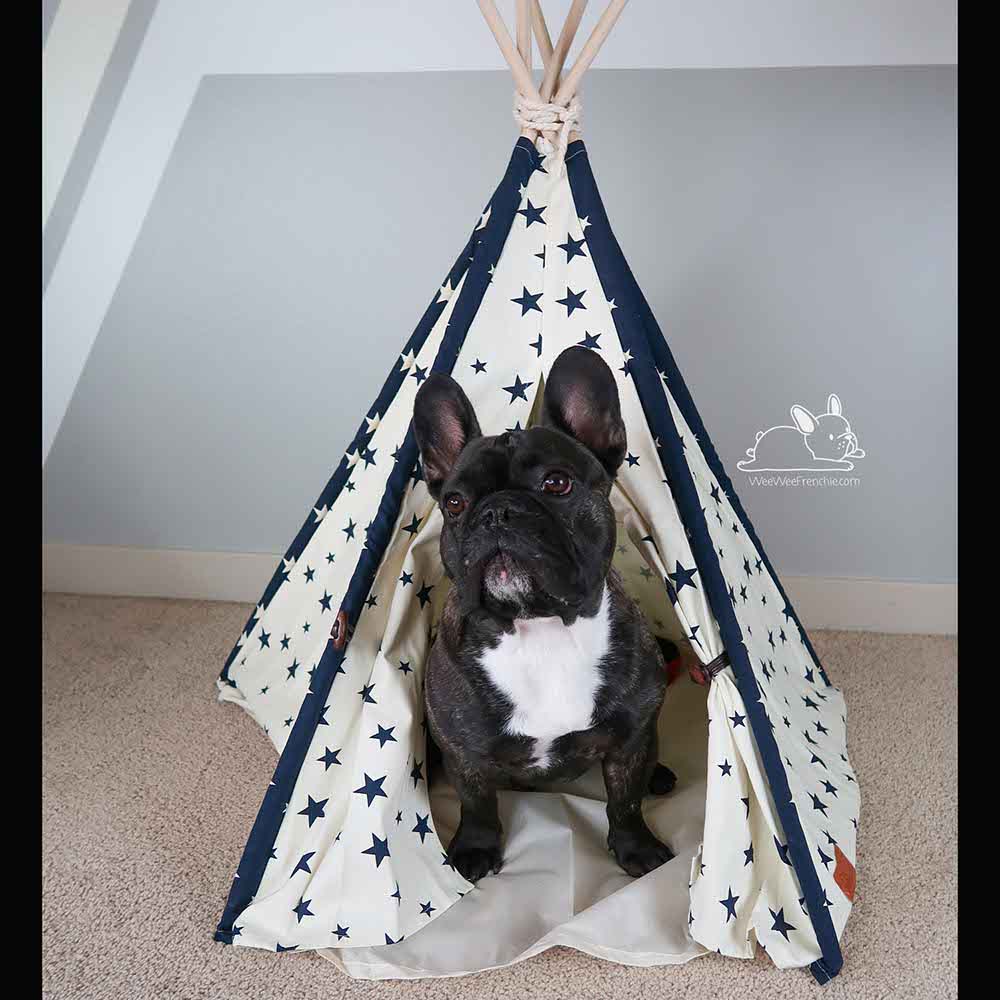 I am always looking for fun and cute items for my pet, especially pet beds.  Sleeping is such a big part of a dog's life, and every Frenchie deserves to be comfortable enough to snore, snort, and dream.  However, if you are like me, space is an issue in my household.  I want a pet bed to integrate with my current home decor while using minimal space.  The bed must be well constructed so that it can withstand long-term use but it also needs to be comfortable in order to attract Cooper to use it.  I decided that the doghouse teepee, as well as a doghouse tent, met my criteria that I wanted in a pet bed.  Both of the products looked cute, stylish, and functional but both were failures in my quest to find a new pet bed for Cooper.
HAN-MM Large Dog House Pet Fold Away Pet Tent
I have to admit, I was the most excited about this product because it looked big enough for Cooper to walk into comfortably.  However, there were no horizontal bottom brackets or rods to prevent the tent from collapsing, which meant that the legs could slide outward if bumped or improperly assembled possibly causing a pet injury.  Although the unit was not heavy, no one wants a pet tent collapsing on their animal.  I actually used a few shoestrings to tie the side brackets together under the mat cushion for safety during our photo shoot so we could avoid any pet emergencies.  I think the selling point of this unit is that it "folds away," but I would rather invest in a product that was safe for my animal to use without having to worry about it collapsing on them.
Also, this unit is rather large in both height and depth.  Assembly was cumbersome, which took about 20-30 minutes to assemble.  The tent came with a mattress pad but it was very thin and not supportive.  To be honest, I think an old bed pillow converted into the pet mattress would have been more comfortable for Cooper rather than the thin pad that was included with the unit.
In conclusion, although stylish and has the mattress pad is included, this unit was too large, clumsy, unsafe, and took longer to assemble. In my opinion, this unit is not worth the $119.99 price tag.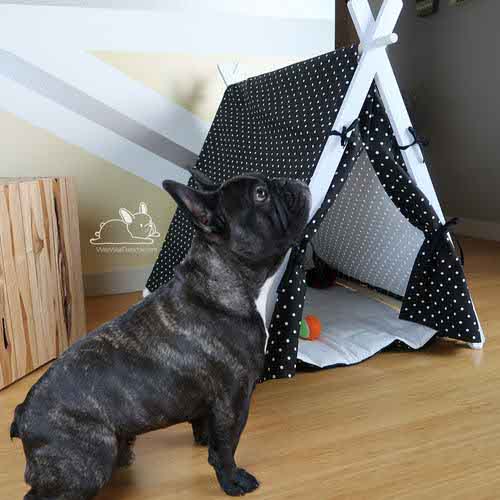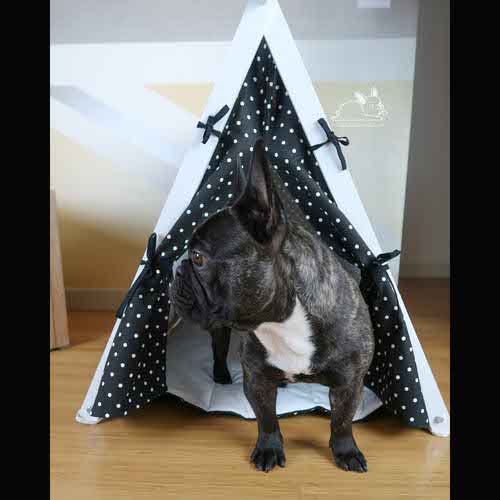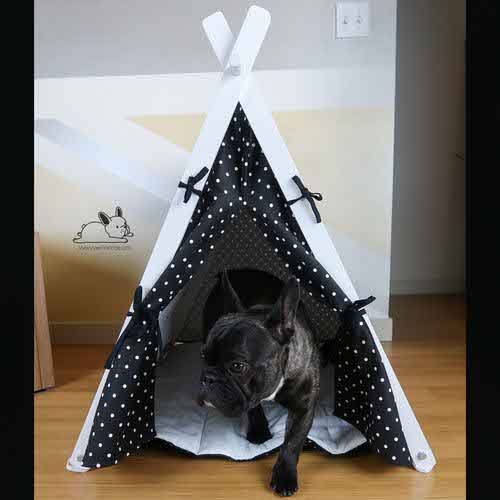 Dewel Pet Teepee (no mat included)
This unit is cute, unique, and very easy to assemble, which only took about 1 minute.  The unit is smaller in diameter and takes up less space but it is tall.  The unit felt small for my long, stout Frenchie, Cooper.  If you have a smaller dog, this may be the perfect size for him/her, especially if he/she likes smaller, enclosed spaces.
The structure is more stable since the rods come together at the top of the unit and are tied together; however, without a mattress pad in the bottom of the unit, I found the unit easily misshaped and collapsing when bumped by Cooper during our photo shoot.  Plus, what dog would want a pet house without a mattress?  It seemed rather odd that this unit came without a mattress, so maybe you could recycle an old bed pillow that you are not using any more and find a tan or blue pillow case to slip over the pillow for easier cleaning.
In comparison to the pet tent, I like the teepee more because of its easy set-up, and it seemed easier for Cooper to get in and out of the unit.  However, the unit could easily collapse on him if he was being careless but I believe a proper mattress pad in the bottom of the unit would help to prevent any incidents.  If you had a smaller dog or cat, this unit could be their perfect home but I would not recommend this unit for a larger dog.  Although cute, it is not worth $72.99.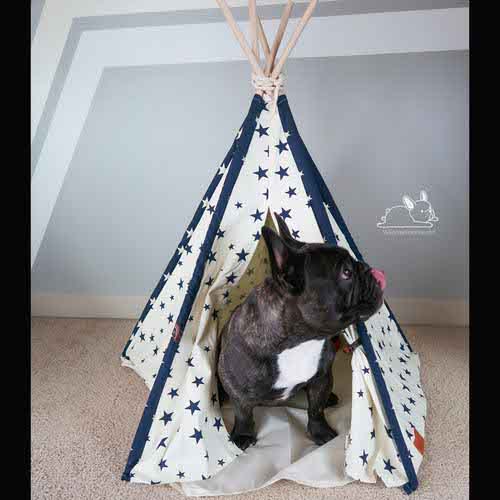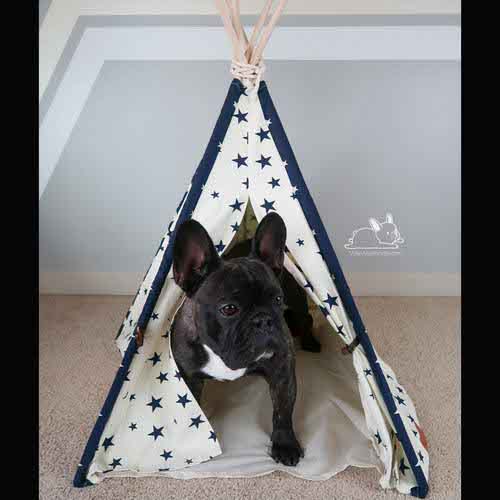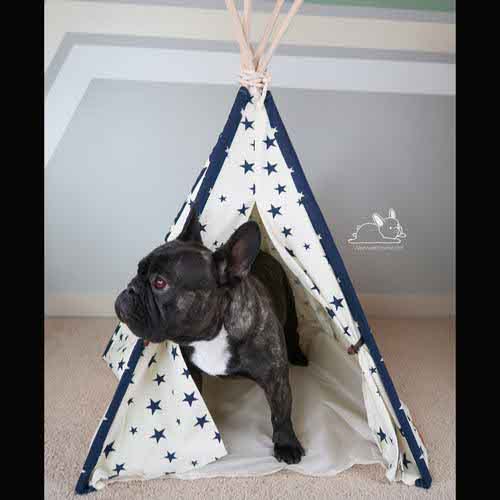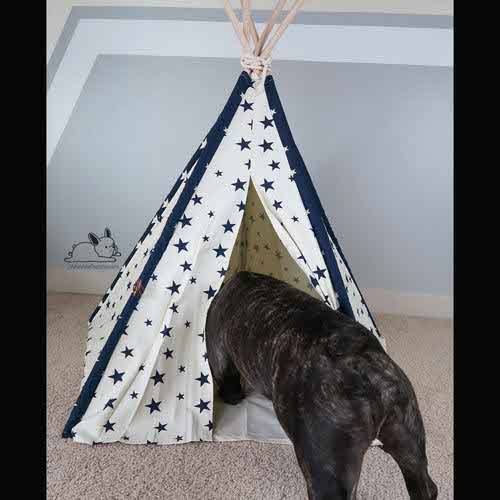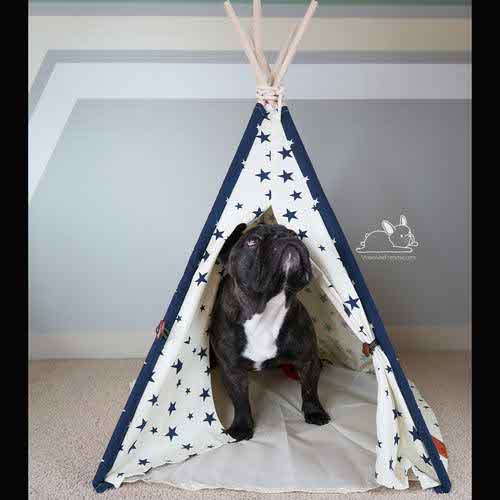 In conclusion, both doghouses met my criteria of being cute, stylish, and a unique style piece for my home; however, they were flimsy units that lacked comfort (either no pet bed or thin pet bed).  Cooper seemed uninterested in both units, and I had a difficult time of keeping him curious for the sake of our article.  A better idea may be to find a supportive pet bed that easily fits under another piece of furniture or a stairwell so that the dog can have a quiet area to call his or her own.  We will definitely keep looking for other ideas for Cooper but I do not recommend these doghouses due to their safety issues.