dog tips
Take Me out to the Ballgame, Summertime Activities for Your Frenchie
Take me out to the ballgame! Or in this case, take your Frenchie to the game!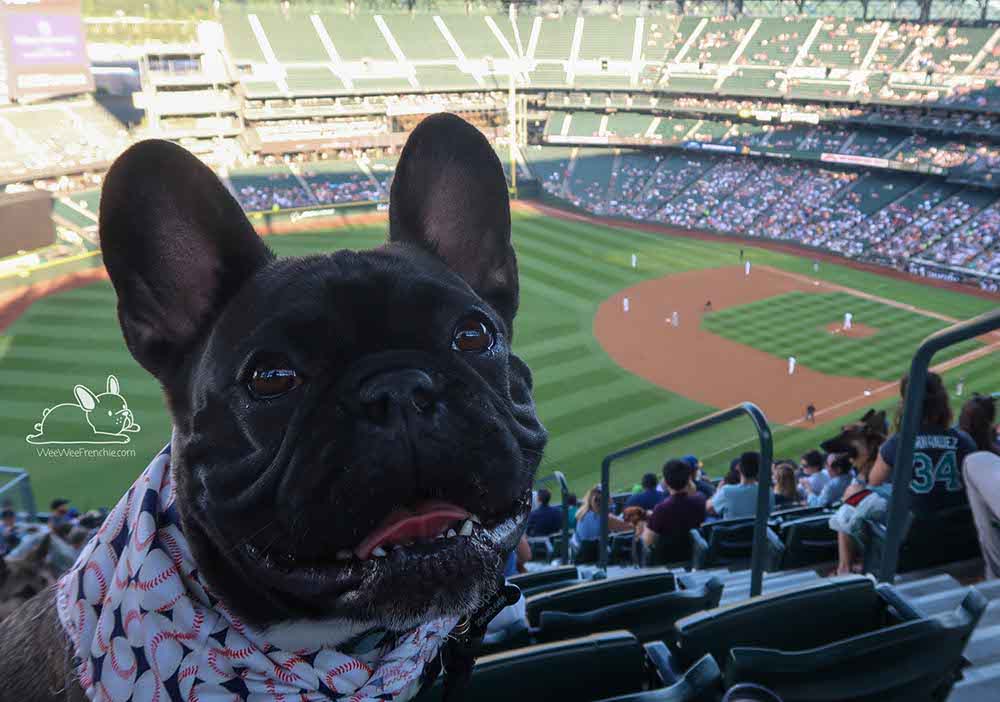 We had our reservations about taking our dog to a ballpark, mainly because we were worried about other dogs misbehaving and taking it out on Cooper.  We did not want pet emergency room visits, vet bills or an owner who denied responsibility for their pet.   Bottom line, we were scared of the unknown at an event that neither us had attended so we stayed away.
Now a year later after initially hearing about "Bark in the Park," we decided that we wanted to try new activities with our dog.  Rather than visiting our usual dog-friendly venues, we wanted to be more adventurous, releasing any inhibitions we had, and we were glad that we did!
What you need to know:
Show up early to check in since you need to show proof of vaccinations before entering the gates.
Be prepared with portable water bowls and treats for your pup once you are at the event.
Take steps to keep your dog cool during the event.  Watch for signs of overheating, and be prepared to leave game if puppy is showing any sluggish behavior
Show your team pride!  Dress your pup in a baseball jersey, collar, leash, or scarf that represents your local team.
Find material at your local/online fabric store that represents a baseball theme and make your own dog scarf by cutting material into a large square, folding into a triangle and tie around your dog's neck.
Personalize the event by bringing your own baseball-themed toys.
Socialize your pup.  Take breaks for your pup to drink water, use the facilities, and mingle with other dogs.
Bring your camera and make sure to commemorate the event!
Our experience:
Cooper loves any event where he can run up/down ramps and try to beat other dogs (he has a competitive edge to him).
Treats, a new toy, and a baseball-themed scarf really made Cooper feel like the baseball event was about him.
Taking pictures with Cooper also helped him to realize that this was his special day.
Cooper loved taking intermissions behind the stands so he could socialize with other pups.  We enjoyed socializing with other dog parents and listening about their ballpark experience.
Cooper's favorite part of the event was running the bases!  He did not understand what the bases were but he knew he wanted to beat the other dogs to get to them first!  Also, he seemed to have a sense of accomplishment when he ran across home plate because he had swagger in his steps and looked to the crowd for encouragement.
Finding special events to bond with our pup helps us to create special memories with Cooper.
We invited other friends who also have dogs!  Our experience was enhanced by sharing the day with our friends and their canine children.
If you want to bring your dog to the ball park, you can find a full schedule of baseball events in the US, visit:  
http://blog.gopetfriendly.com/dog-friendly-baseball-games-2017-schedule/