Nog for Dogs is the latest from Swell Gelato. It is a coconut-based gelato with coconut milk, pumpkin, honey, cinnamon, and ginger.
This treat is so delicious that your dog will be begging for more. There are no added preservatives. And with only a handful of ingredients, you won't feel bad about letting your dog have more than one.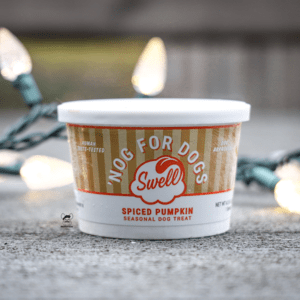 Swell Gelato is handmade in small batches in Seattle, Washington. It is available in on the West and East Coast.  Check SwellGelato.com to see if it is available in your area.
Nog for Dogs is available through December. Get yours before it melts because it only comes around once a year.
Bring some holiday cheer to your dog this season. 'Tis the season for gelato.