update
How to Donate to Hurricane Harvey Victims
We wanted to dedicate a blog to the tragedy unfolding in Texas. We are devastated and saddened by the events that has happened in the past week, and we want to do whatever we can to help the victims.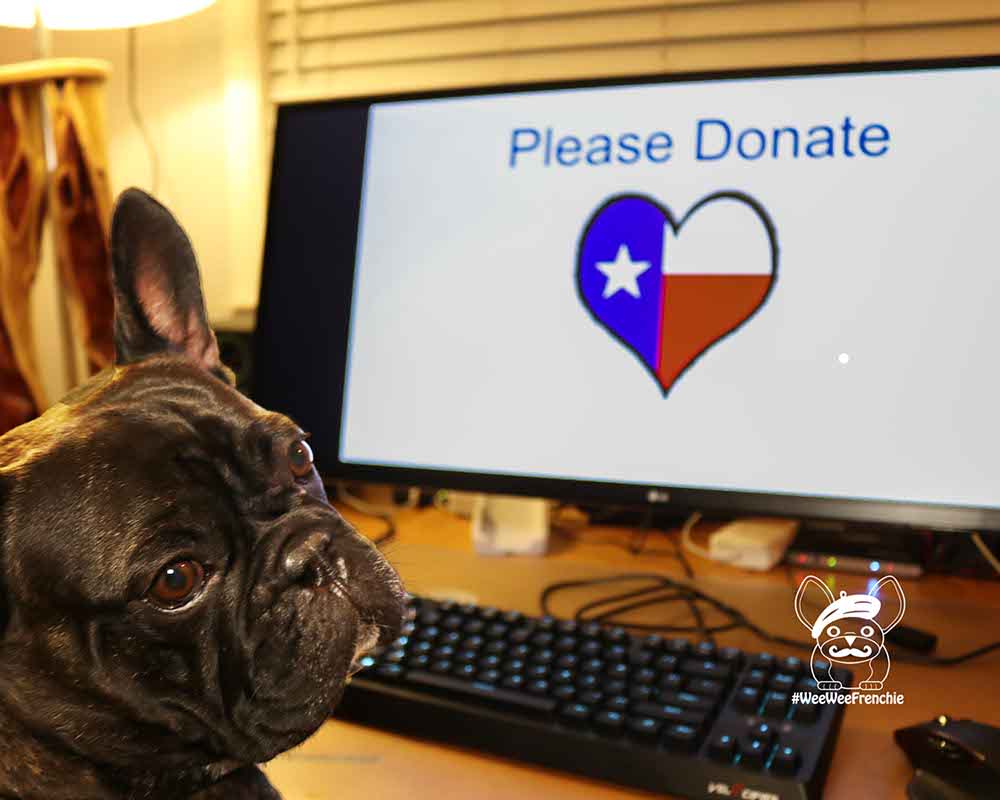 First, we would like to express our deepest condolences to the families who have lost loved ones.  Second, our hearts go out to all people who have lost everything that they owned.  Lastly, we want to spread the word in how all of us can extend our hearts and a helping hand to the both animals and people, alike.
"It's not how much we give but how much love we put into giving." ~ Mother Theresa
How to give to the animals in Texas:
The Humane Society - Per their website: Your Animal Rescue Team is on the ground in Texas, helping animals and the people who care about them and working to deal with the catastrophic floods hitting so many communities. We started moving animals days before Hurricane Harvey made landfall and we are currently working with local officials on animal transport and rescue. At this moment, we are active in Dickinson and League City, and we are moving animals out of San Antonio.
The American Society for the Prevention of Cruelty to Animals (ASPCA) - Per their website:
The American Society for the Prevention of Cruelty to Animals® (ASPCA) is a national leader in the areas of rescue, adoption and welfare and has worked tirelessly for over 150 years to put an end to animal abuse and neglect. Our nationwide work includes:
*Saving animals from dog-fighting, puppy mills, hoarding and other cruelty-related situations.
*Providing animal victims of cruelty with life-saving medical care and behavioral rehabilitation.
*Helping thousands of animals find loving homes every single year.
**Responding to emergency situations when disaster strikes.**
*Working with all levels of government to fight for stronger laws to protect animals.
**Please note that ASPCA is currently in the Houston area rescuing animals, along with the Humane Society.
How to give to the animals locally:
Foster an animal.  If you live in Texas, you can apply to be a foster family at: SPCA of Texas.  If you do not live in Texas, you can apply to be a foster family at any of the animal shelters that are accepting displaced animals.  At the time of writing this blog, the Seattle Humane Society has accepted 300 displaced animals (200 cats and 100 dogs), on 8/30/17, into their recently opened extended shelter.  If you would like to become a foster family in the Seattle area, you can send an email to the Seattle Humane Society using the following address: emergencyfoster@seattlehumane.org.  Please click on the link for the Seattle Humane Society for other ways that you can help their facility and the animals that were displaced.  If you do not live in the Seattle area or in Texas, please check your local humane society to see what you can do to help, whether it is becoming a foster family, donating food or your time, or donating money.  Remember, every little bit helps during times of need.
Donate supplies and/or food to your local humane society that is helping displaced animals.  Many humane societies have a "wish list" on Amazon, which can be searched for under "lists and registries," followed by typing the name of the organization.  The wish list can include an array of items like food, toys, kennels, or cat litter.  You can purchase the items of your choice off of their list, and when your purchase reaches a certain monetary amount, the shipping is free.  This means the items will ship directly to the humane society free of charge.  It does not get much easier than that.  Click on the link for the Harvey Disaster Relief Wish List for the Seattle Humane Society.
Join the Hurricane Harvey Animal Rescue Facebook group for information on how to support local rescue groups
Volunteer at an animal shelter accepting displaced animals.  Any help you can provide is helping animals, as well as providing extra manpower to shelter staff.
Adopt an animal that was displaced.  If you have been thinking about adding to your family, the timing may be perfect to open your hearts and home to an animal in need.
If you would like to help people displaced in Texas:
Other articles that have more information about donating:
Please find it in your hearts to help the people and animals of Texas whether it is donating your time, creating a fundraiser with a matching program at your work, or donating items to your local animal shelter.  No gift is too small, and through the spirit of giving, we can help to establish hope in the lives of those who lost everything.
"No one is useless in this world who lightens the burdens of another." ~ Charles Dickens