product review
Bowser Dog Beer
Many times there have been social events that have excluded my dog even though he was in attendance. It is hard to look into those sad dog eyes and wonder what could he be thinking.
With the warmer summer months quickly approaching, I have been avidly searching for products that will have my dog feeling like every get-together and celebration is made just for him.  My dog deserves the best, and I never want my dog to feel like an outsider.  Finally, I have found the perfect product that will have my dog feeling like a VIP.
Meet Bowser Beer, a non-alcoholic beverage treat for dogs!  It is made of real meat, malted barley, and glucosamine.  With three flavors available (chicken, pork, and beef), you are sure to find your dog's favorite beverage.  Each Bowser Beer is high in vitamin B, and glucosamine aids in joint health.  All ingredients are human-grade, raised and manufactured in the USA, and never contains salt, alcohol, or carbonation.
Bowser Beer is not a meal replacement but can be used as an extra treat for your dog.  It can be sipped from the bottle or from a bowl.  For something different, you can make popsicles for a fun treat on a hot day.  If making popsicles, a fun option is to add berries, like strawberries or blueberries, for a unique treat.  Another option is to pour beer over kibble or raw food for added flavor.  Your dog will not be disappointed.
The serving size varies depending on the size of the dog.  Teacup dogs should splurge with a few capfuls, while small to medium dogs can have half of a bottle.  Large dogs can enjoy a whole bottle.  Yahoo!
Due to containing real meat, left over beer can be refrigerated for 7-10 days.  Shelf life of the unopened beer is for 2 years, and expiration dates are stamped on the bottle.
Bowser beer may have a dog on it's label but it is also for cats.  Considering that our family contains both dogs and cats, everyone can feel included for special events.
Your dog will never feel left out again and will feel like everyday is a party with Bowser Beer.   It is not only delicious but is also packed with vitamin B and glucosamine.  Make sure to visit Bowser Beer and shop their great selection of beer and treats!  Pretzels, anyone?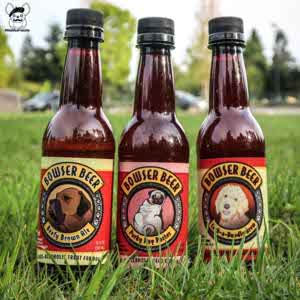 Is your dog drinking responsibly?