Are You Looking For An Elevated Feeder For Your Dog
It was another day when my dog jumped up onto the ottoman. But this time, something went wrong! My Frenchie immediately started licking his lips. And he used his front legs to pull himself across the furniture while dragging his butt.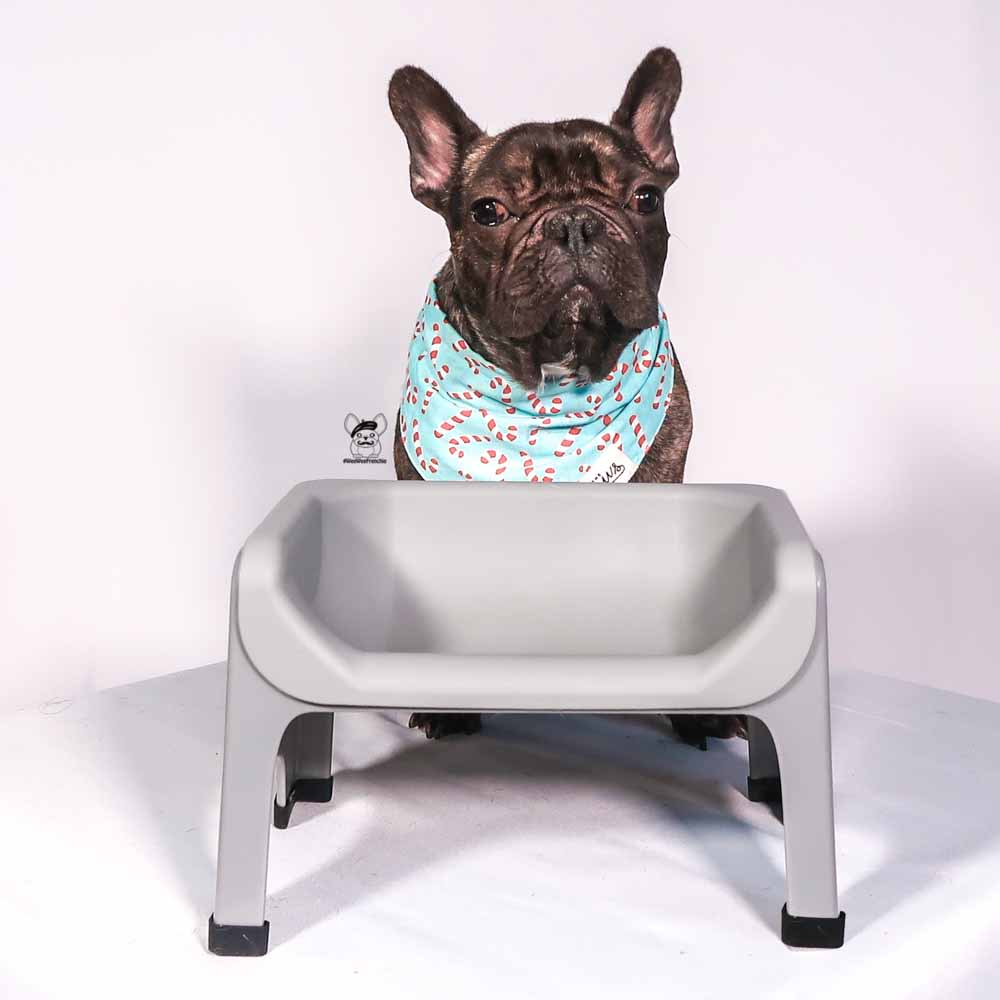 I thought he was choking on the peanut butter biscuit I had given him but I was wrong!  When I felt his back, you could feel his entire back spasming, and he was in pain.  
After a trip to the ER, we got the diagnosis of IVDD, intervertebral disk disease. With medications and crate rest, my dog should make a full recovery.  But how do we take steps to prevent another IVDD flare?
I started dog-proofing the house and remembered I had a new product still in the box, the Fluff Trough!  
I ran to the box and ripped it open.  I grabbed the sturdy plastic leg, and lifted the product out of the box!  It was like the clouds opened, and angels were singing from above.  One look at the Fluff Trough, and it was love at first sight!  
Made of sturdy plastic, it's basically indestructible even for the most aggressive dog.  And the height is perfect for both my dogs and cats!  No more hunching over to eat!  Now my dogs can stand with their necks in a comfortable position while eating.  
The trough is like the name implies!  It is a flat basin with a removable, BPA-free silicone mat.  The silicone mat is non-porous, making it perfect for all food types. The open front but tall side-walls allows your dog to push their food around without creating a mess.  And for the fast eater, there is a grooved silicone insert that slows down mealtime.
And no more pushing the food bowl across the floor.  The Fluff Trough also has non-slip silicone leg covers to prevent movement.  
After mealtime, remove the silicone insert and put in the dishwasher.  Extra silicone inserts can also be ordered, which alleviates clean-up between meals.  
This bowl is great for pet owners looking for an ergonomic bowl that will help prevent health issues.  Or if your pet already has health issues, it alleviates extra strain placed on the body during eating.  
Fluff Trough is great for all dogs.  But it is especially helpful for dogs with the following health conditions:
IVDD
Myelopathy
Neurological issues
Cleft Palate
Collapsed Trachea
Esophagus Issues
Blindness
Vestibular Disease
Underbites
Missing Teeth
Long Tongue
You don't have to own a small dog to get the Fluff Trough.  It is available in two sizes for both small and large dog breeds.  And soon, there will also be a water trough version too!  (Sign up for email updates on their website).  
If you've been looking for an elevated feeder for your pet, this is the product for you!  Now that we have used the Fluff Trough, we aren't sure why we waited so long to try it.  Without hesitation, we recommend this product and give it 2 paws up!